Shopping Basket
Your Basket is Empty
There was an error with PayPal
Click here to try again
Thank you for your business!
You should receive an order confirmation from Paypal shortly.
Exit Shopping Basket
Comp​uter Recycling Specialists
Servicing the Dallas/Ft. Worth Area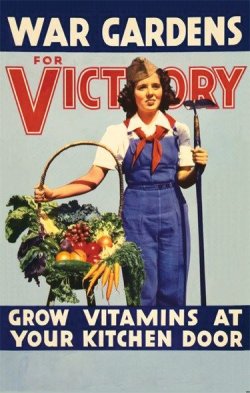 I stumbled across some images of "Victory Gardens" during WWI and WWII the other day and was really fascinated by the propoganda put out there to encourage people to grow their own gardens.  There are images of roof top gardens, window sill gardens, and your traditional backyard garden being grown during such a challenging time in our country.  I find it amusing as our society expands and our waste is exponential, that we push organic
purchases
over growing our own.  As a former teacher who was fortunate to be at a school with a sponsored "REAL School Garden" I was able to teach my students where the simplest of things come from like potatoes.Which by the way, I can tell you half of my 3rd graders didn't believe me when I said potatoes make french fries AND almost all of them thought I was crazy when our science lesson for the day was digging in the dirt to harvest our vegetables.
Now, I don't have a major garden.  I have a few items worked into my regular beds, but I really want to start a more significant one and think that will be my project for this spring.  I am still bothered though that this isn't being pushed more...when it was once, and now we are almost a lost culture of farmers.  Hmm, do you have a garden? What tips and tricks can you offer? If you don't, why not?  Is it a time thing or experience thing?
Okay I'm not going to lie...I love the holidays.  I'm really big on family and love to cook.  I've also learned that feeding the masses is really satisfying.  BUT it kind of drives me crazy the frenzy over what to buy for loved ones and sorting out the thoughtful from the easy buy.  It seems to be getting harder to accomplish the more rapid paced our society is becoming.  I mean there's already a new iPad out 6 months after the release of the last one.  What person can keep up with that?  I am really starting to notice the abundance of waste out there.  Why is there 100 different kinds of wrapping paper at one particular superstore and only 4 of those rolls are made from recycled paper?  Shouldn't it all be from recycled paper?  I don't know about you, but I rip my presents open with the intent of never using the paper again. Don't get me wrong, I am not saying don't wrap presents but maybe there needs to be an emphasis on greener holidays.  If you get a new computer, let's recycle the old one not store it (trust me they don't gain value).  Let's make an extra effort to recycle the boxes and papers that can be, maybe actually finish the whole roll of wrapping paper from last year.  Anyone else see this?  I wonder if you have a greener holiday tradition?  I would love to know.
OOOH, I am a PINTREST junky...there are great ideas on recycled stuff.  My favorite this week...taking last years Christmas cards and cutting them into cute sized present tags for the coming holiday. Wr
Thanks for listening to my rant today! ite your post here.
  So last night we tried the Ft. Worth Food Park for the first time and fell in love.  I know, you are asking how that has anything to do with recycling, but it has a lot to do with it.  Our business isn't just a business to us.  It really is more about making a long term impact on all that we can for better living.  The way I look at it, you aren't living with old junk in your closet, those old electronics aren't leaking hazardous chemicals into a landfill polluting all those things they tend to do, and we are working hard to get a process, no a standard, for all the things we use.
   Part of our lifestyle is "reducing' the material things and that's exactly what the food park has done.  Think picnic tables on rocks under aged trees.  You sit family style with people you've never met before and you can't help but make friends.  We met some amazing people of all ages there last night, oh, and the food was great.  No dishes here, but all things that can be recycled.  AND they know it, because right next to the garbage bins were recycling bins.  How many restaurants in this area do that?
    The vendors in their simplistic trailers were toting farm-fresh ingredients designed to bring comfort to those enjoying.  The food represented would satisfy the carnivore to the vegan, gluten free friend.  At least for me, I find myself enthralled with places like this because there's no pressure to buy a new outfit, no pressure to spend a paycheck on dinner, and I don't know, I just feel like this was how life was before our concrete walls took over.
   If you are looking for something new, and something I believe is better than any 5-star restaurant I have had to play pretentious at, then check it out...bring your friends (it's that kind of place)!
9/13/2011
So after working with a green certified eco-broker on our former radio show, I learned that even leaving your plugs for cell phones, laptops, or other devices in the wall, even when the electronic was not attached, uses electricity.  Evidently when the plug is in the wall, the current is engaged and doesn't stop just because you took your device off the charger.    Just thought I would share this bit of information if you are like me and always looking for ways to reduce your electric bill...especially with this unbearable summer heat we've had!  Just curious, what are some effective ways you have managed to save electricity?
/